CoinMarketCap reports the total number of cryptocurrencies in the world reaching a whopping 20,000. There's bound to be a bunch of undervalued crypto coins, as well as overvalued ones, among the thousands of new and old projects.
Smart investors know the art of identifying undervalued assets and holding on to them for incredible returns in the long run. If you too are trying to find promising crypto projects for a long-term investment, this guide has all you need to know. Find out how to determine whether a cryptocurrency is undervalued, how to find such coins, and the most undervalued crypto on the market right now.
What is an Undervalued Crypto?
Undervalued crypto is any cryptocurrency that's being bought and sold on the market at a price lower than what is probably its true, long-term worth. To put it differently, the larger market has not yet realized the actual value of a digital currency, hence its demand, and by extension, its price is not as high as it should be.
It's not just new cryptocurrencies that can be undervalued. Even the oldest tokens like Bitcoin and Ethereum can be undervalued. As the BTC to USD chart below shows, the digital currency alternates between highs and lows. The lows, encircled in red, are the points where the crypto has been undervalued over the last couple of years.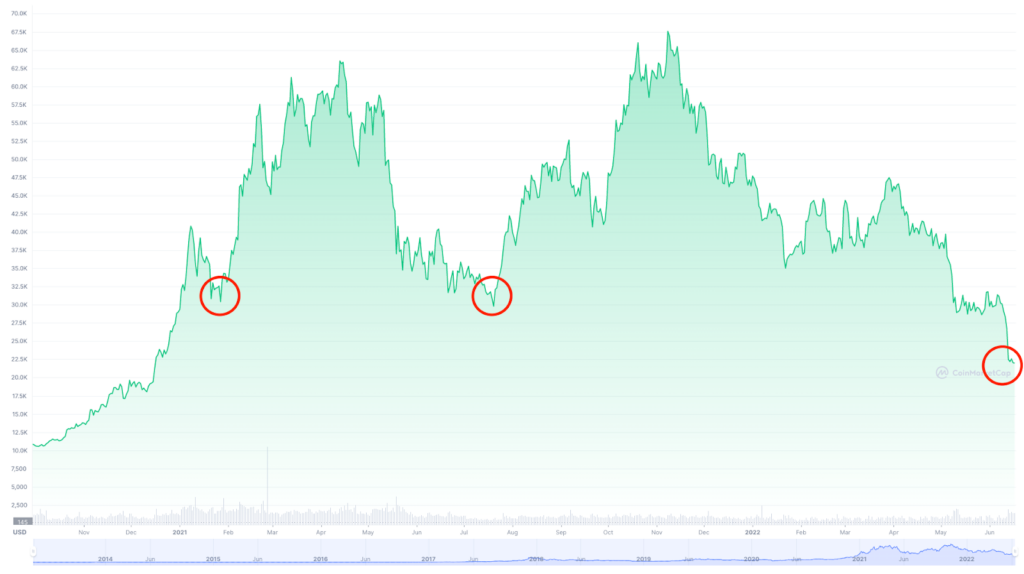 Typically, undervalued cryptocurrencies are the best to invest in. They will eventually rise in value, yielding lucrative returns for investors who got in early. However, such investments work best if you commit to them for the long term. This might mean dedicating your capital for at least a couple of years. This is not to say that short-term investments won't work at all, they just won't be as profitable.
Just as some coins can be undervalued, others can be overvalued. This usually results from a hype investment, which is a characteristic of the crypto market.
People tend to follow trends and jump into a fast-growing cryptocurrency often without analyzing its technical soundness. This results in it getting overvalued temporarily until eventually the bubble bursts and the price plummets down to what it should've been. Exactly like what happened to Dogecoin in 2021.
Why are Cryptocurrencies Undervalued?
There can be several reasons behind a crypto's price being below its true value. If it's a freshly launched project that promises great utility and a unique application, it's only natural to be undervalued initially. The reason is that the market takes some time to build confidence in a new project and start to see the actual value it brings to the table.
The wider community usually waits for expert traders and bigger names to endorse a crypto coin before they get their feet wet too. This brings us to another important aspect of digital assets being over or undervalued: marketing.
Good marketing can make a coin incredibly overvalued and vice versa. Even a promising currency with a comprehensive white paper can't really get the ball rolling unless it markets itself properly. 
When it comes to older projects, undervaluation usually comes down to the technicalities of crypto trading. Every tradable asset alternates between highs and lows which are typically fuelled by market sentiment.
Top 10 Undervalued Crypto Coins on the Market
Here's a quick look at the top undervalued cryptocurrencies out there. Continue reading as we analyze why these cryptos are undervalued.
Decentraland (MANA)
The Sandbox (SAND)
Lucky Block (LBLOCK)
BNB (BNB)
ApeCoin (APE)
The Graph (GRT)
Algorand (ALGO)
Polygon (MATIC)
Ethereum (ETH)
Bitcoin (BTC)
You may not find all of these on some top crypto exchanges. Instead, we recommend you look for them on the crypto exchanges with the most coins as they're more likely to have all of them.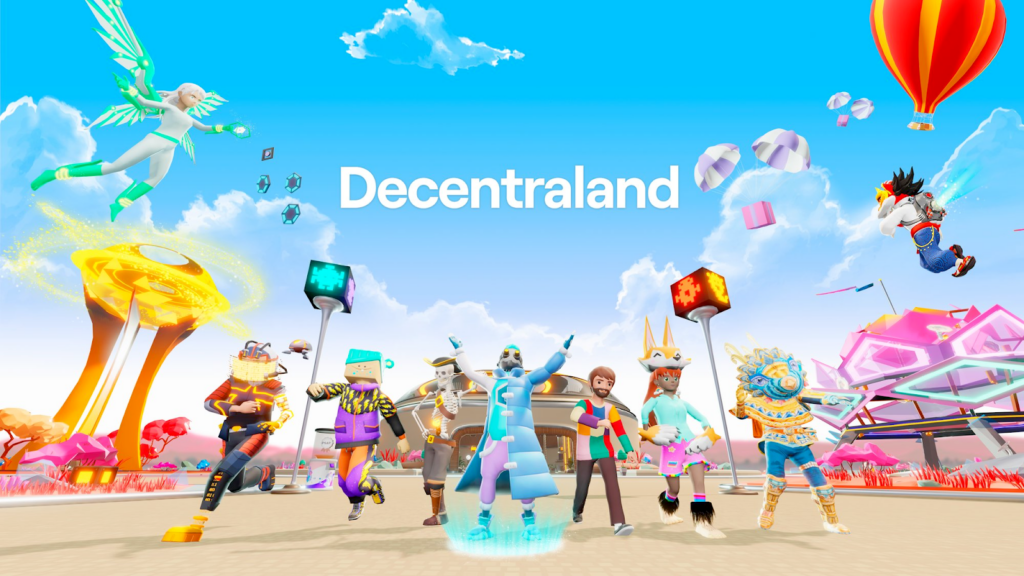 Decentraland or MANA is the crypto token from the virtual Decentraland ecosystem. Players use the crypto to buy real estate holdings in the game that has developed quite the market lately. With Decentraland plots selling for as much as $2.4 million, the virtual world's native token clearly has a lot of utility to offer.
As giants like Meta have introduced the idea of developing virtual worlds, already existing virtual ecosystems like Decentraland have experienced a boost in popularity, users, and investment. The crypto hit an all-time high price of $5.5 in 2021's bull run. With reasonable demand, sound utility, a credible team behind it, and availability in almost all major markets, MANA is indeed a great long-term investment.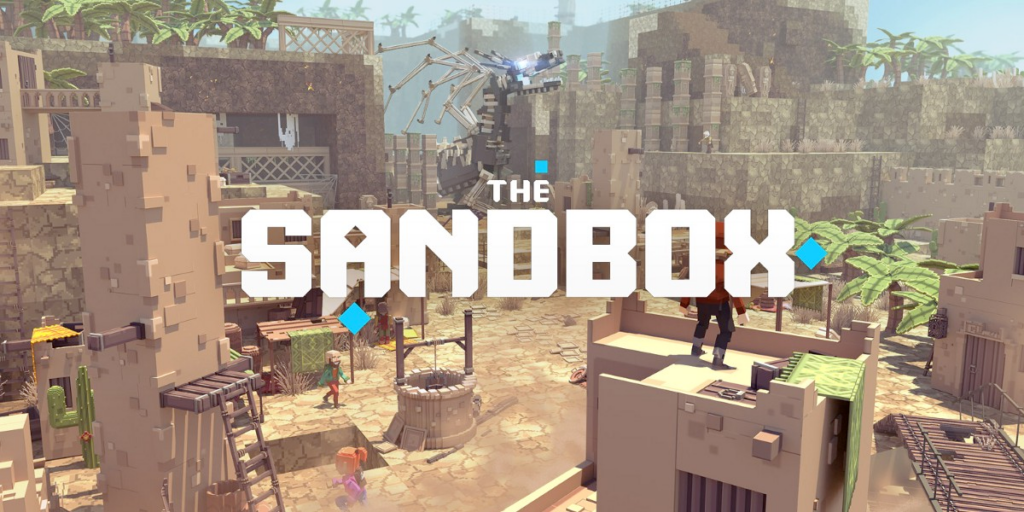 Just like MANA tokens from Decentraland, SAND crypto comes from The Sandbox, a virtual world where players can create, own, and customize their virtual experience the way they want. It's a 3D metaverse where players can connect, create their 3D games, and buy, and trade in-game assets.
SAND is the native cryptocurrency the game uses. With a max supply of 3 billion tokens, it's a deflationary cryptocurrency. With 900 million tokens already in circulation, the price of each SAND token will only go up once it nears its supply cap. Still, it has great utility, and with its all-time-high value at $8.4, which was much higher than MANA's, The Sandbox has solid potential to grow in value in the future.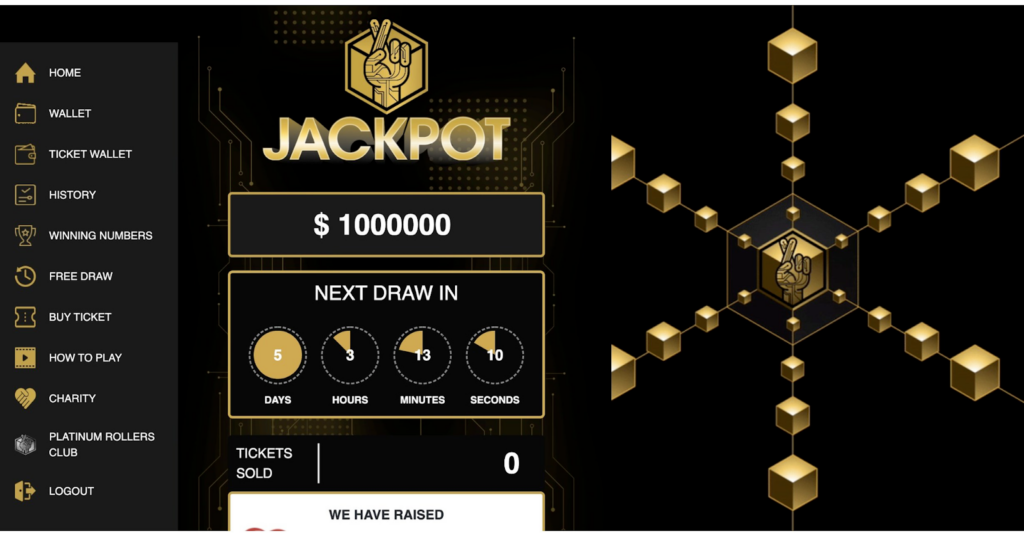 Launched in 2021, Lucky Block aims to disrupt the lottery industry by introducing its revolutionary decentralized lottery app. Players from all over the world can participate whereas the lottery itself will be completely decentralized and run on its own on the blockchain. This ensures players that the drawing process will be 100% random with no possibility of rigging.
Since the LBLOCK token will be the primary means of participating in Lucky Block games, the token has emerged to be one of the most useful cryptocurrencies. Moreover, all LBLOCK holders also receive a 10% share of winnings which means all investors have a chance of earning a passive income.
On top of that, Lucky Block cryptocurrency has quite a few amazing stats under its belt which make it an attractive undervalued crypto token to invest in. It's the world's fastest digital currency to hit a market cap of $1 billion with more than 50K investors in the first three months of its launch. Plus, if you're an LBLOCK holder, you enter the daily jackpot free, making it an attractive cryptocurrency with great utility for the common person.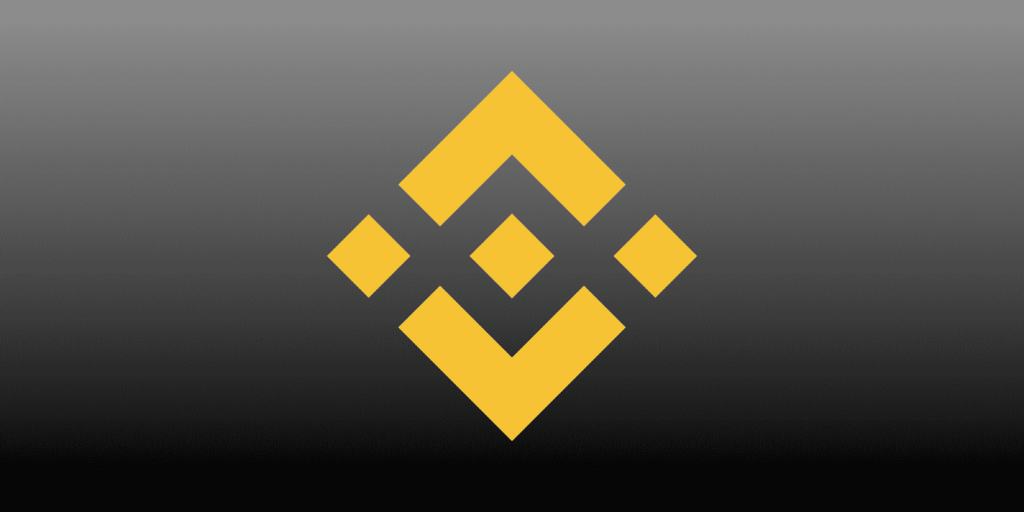 When a crypto coin is backed by the world's largest crypto exchange, you have to accept how strong it is. Binance is the world's most popular crypto trading platform with the highest trading volume and liquidity. You can never take it out of the equation.
BNB is the exchange's native token housed on the Binance Smart Chain. Note that other undervalued cryptocurrencies like Lucky Block, Uniswap, Chainlink, and Avalanche are also based on the same infrastructure.
What makes BNB a great long-term investment is the rock-solid support it has from the crypto exchange. BNB transactions are charged less by Binance which makes it a very useful asset to hold for Binance traders.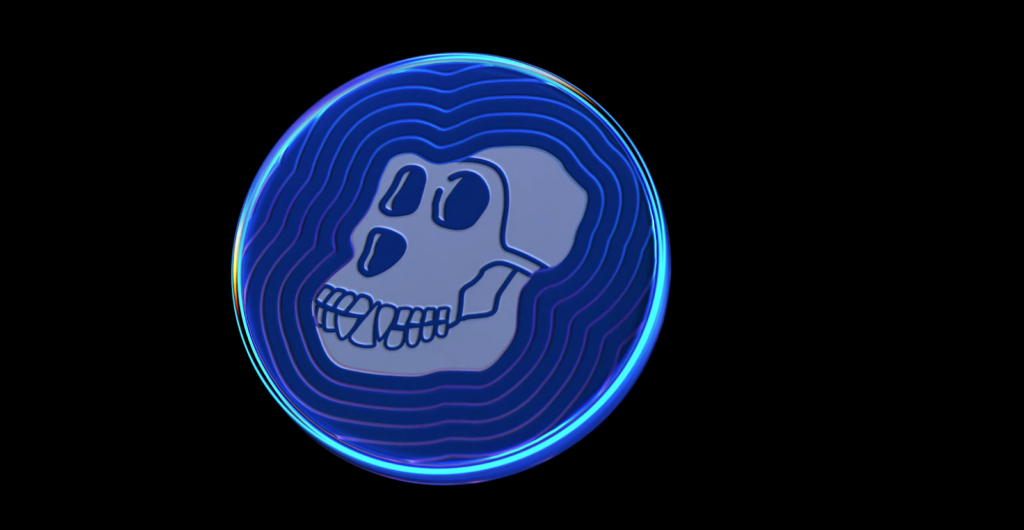 ApeCoin is from the team behind Bored Ape Yacht Club, one of the best NFT projects to buy. The undeniable success of the project in the NFT area makes its governance token, APE, a good option for investors.
The primary purpose of the ApeCoin was to function as a governance token whereby holders can have a say in how the NFT project is run. However, it has also emerged to have great investment potential with a relatively stable price even when the rest of the market was crashing.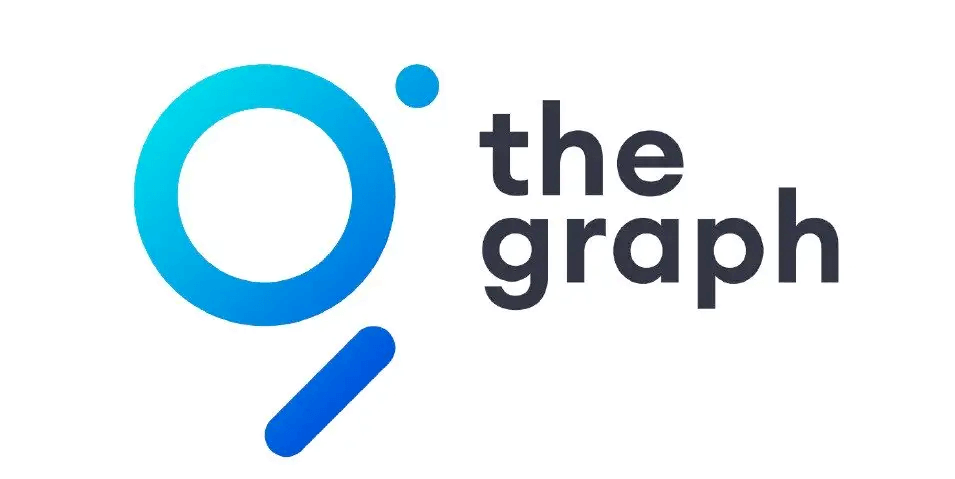 Launched in late 2020, The Graph is a relatively new virtual currency that's making its mark when it comes to providing utility. As it happens, extracting data from different blockchains and using it hasn't always been easy. But GRT is here to solve that problem as it gives consumers access to open APIs from blockchains.

This solves a long-standing problem in the industry which makes The Graph one of the most useful, and undervalued cryptos out there. Since its launch, GRT has continued to expand its horizons and works with more and more blockchains. Some have even dubbed it, 'the Google of blockchains.'

While Bitcoin is based on the Proof of Work mechanism, Algorand is a Proof of Stake cryptocurrency which is a much more efficient alternative to the former. ALGO was originally designed to beat Bitcoin in terms of speed and efficiency and has been doing fairly well. Although it's not as popular as the industry-leading BTC, it's growing fast and garnering more attention as it partners with a range of blockchain companies.

While some may confuse Polygon to be an actual cryptocurrency, it's a decentralized Ethereum scaling platform that lets developers build decentralized applications (dApps). MATIC is the native crypto token used on Polygon which also helps to govern and secure the network through staking.
With several market-leading companies and other tech giants using the Polygon network, its native crypto token is bound to go up in value. As of now, MATIC has quite a low price compared to its significant trading volume.

You might expect a list of the most undervalued crypto to be full of hidden gems. However, even some of the most popular cryptocurrencies can be undervalued. Take Ethereum, for example. It's only the second most popular crypto after Bitcoin and it's severely undervalued for the massive range of applications it's connected to.
Ethereum is arguably the highest utility cryptocurrency out there. The Ethereum blockchain houses several other cryptocurrencies and also powers technologies like smart contracts and dApps. Considering the utility and massive market cap of the ETH, it's worth a lot more than its current price.

Last but not least, Bitcoin is also one of the most undervalued crypto tokens, especially right now (2022 bear market). Although it's the largest cryptocurrency by market value and price, Bitcoin is at the very core of crypto technology.
Experts believe the token to be the 'gold standard' of the crypto world and rightly so. It's the single cryptocurrency that inspired the creation of thousands of others and remains to be a flagship asset when it comes to looking at crypto as a financial market.
Bitcoin has some drawbacks too. As it's based on a Proof of Work mechanism, BTC is not the most efficient when it comes to being a mode of exchange. The crypto has turned out to be more of an investment asset with the higher market cap out of all tokens. It reached an ATH of $68,780+ in 2021 but its price has significantly dropped since then, making it all the more undervalued.
How to Determine a Crypto is Undervalued?
Just like undervalued crypto, there are overvalued cryptocurrencies too. If you're stepping into the crypto market, it's best for you to know how to identify undervalued crypto.
In traditional financial markets like stocks, finding undervalued stocks comes down to companies' balance sheets, financial performance, and business and industry research. On the other hand, determining undervalued crypto assets is a little different. Here you can either make decisions based on advertising and hype or on market research and technical analysis.
If you're thinking about investing in a token, here are some steps you should take to ensure it's an undervalued cryptocurrency.
Identify the team behind the crypto project: An experienced and trustworthy founding team is one of the most important factors you should consider when investing in a project. The names behind a cryptocurrency are what give it credibility and help it earn investors' trust.
Identify the project's backers: Trustworthy projects often have well-known investors that pour in the capital early on. Check out for credible angel investors or VC funds as they often invest in projects that will likely deliver great returns.
Study the charts: When it comes to identifying undervalued assets, studying charts is as simple as identifying highs and lows. If you see that the current value of a cryptocurrency is lower than what it usually is, you can say that it's currently undervalued. However, this is only true if the crypto meets other requirements including having a credible team, strong backing, and offers utility.
Consider max circulating supply: Deflationary cryptocurrencies are those that have a maximum circulating supply limit or reduce supply over time. This results in an increase in value as there is a limited supply. In other words, cryptocurrencies with a maximum circulating supply limit are more likely to be undervalued than those that don't limit supply.
Consider the crypto's utility: Last but not least, a digital asset's value comes down to the utility it provides to users or investors. Assets like Ethereum, Lucky Block, Algorand, and Polygon allow users to avail of different services which give them inherent value. As a result, the higher a cryptocurrency's utility, the more undervalued it is.
Frequently Asked Questions (FAQs) for Most Undervalued Crypto
Here are some of the most frequently asked questions about the most undervalued crypto.
Bottom Line on Undervalued Crypto
With thousands of cryptocurrencies being traded in the market, you will find several undervalued, as well as overvalued cryptocurrencies. The key to finding undervalued crypto is the utility it provides to users and investors. It gives it an inherent value that cannot be artificially changed in the long term.
Other factors like a credible founding team and strong backing also contribute to a digital currency's value over time. That said, we recommend you always make investment decisions based on market research and sound technical analysis. If you want to invest, go for top crypto exchanges like Binance, Kraken, or Coinbase that give you accurate prices and swift order fulfillments for a promising crypto investing experience.