Due to the meteoric growth of the internet over the past decade, the needs of business owners have dramatically changed. However, the insurance industry has been slow to accommodate these rapidly changing needs.
This is where Next Insurance steps in. Next Insurance is an insurance company dedicated to selling business insurance online. The company aims to provide simple and affordable coverage to any small business owner.
Our in-depth review will determine if Next Insurance is the right fit for your business.
Next Insurance Business Review: Overview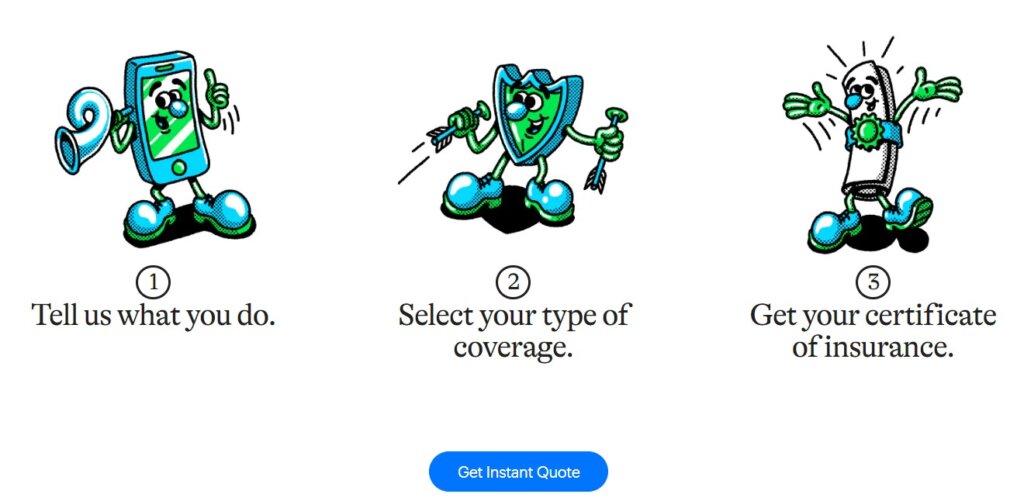 Next Insurance is designed to provide small business owners with affordable and tailored insurance policies. This insurance provider offers various types of insurance, including general liability insurance, business income insurance, and professional liability insurance. Best of all, you will receive a quote in no time after you finish the application.
Who Next Insurance is Best For
Next Insurance is best for small business owners that don't need specialized insurance. For example, if your business requires a key person or builder's risk insurance, we recommend looking at another insurance provider. Next Insurance is designed for more common types of insurance coverage.
In addition, Next Business Insurance is ideal for business owners who prefer an all-digital solution. You can submit insurance claims through Next Insurance's online portal or a call center representative. Furthermore, you can view your certificate of insurance and add additional insureds online.
Next Insurance is also an excellent choice for business owners that require an insurance agent but want personal support. As such, Next Insurance offers advisers who will walk you through all your options.
Next Insurance Pricing
Next Insurance offers several types of insurance, but the exact price you pay for each depends on your specific circumstances. We recommend going to the Next Insurance website and requesting a quote if you're interested in one particular policy. The application takes about 10 minutes to complete, and you receive your quote immediately.
However, here's what each policy starts at:
General liability insurance: Starts at $11 per month or $128 annually
Workers' compensation insurance: Starts at $12.20 per month or $146 annually
Professional liability insurance: Starts at $18.34 per month or $220 annually
Commercial property insurance: Starts at $17 per month or $205 annually
Commercial auto insurance: Starts at $12.50 per month or $150 annually
Errors and omissions insurance: Starts at $19 per month
Tools and equipment insurance: Starts at $12.50 per month
Next Insurance: Key Features
The next section covers each of the insurance policies Next Insurance offers. Although you can purchase policies online individually, you can bundle them together for up to a 10% off discount.
In addition, Next Insurance offers small businesses less inherent risk and cheaper insurance coverage. Keep this in mind as you continue reading the Next Business Insurance review.
Business Owner's Policy (BOP)
Next Insurance's business owner's policy consolidates its general liability insurance, commercial property insurance, and business income insurance into one bundle.
Therefore a business owner's policy is an excellent option for small business owners seeking:
A single all-inclusive insurance policy
Coverage for a physical business location, inventory, or equipment
Businesses dealing with customers directly
General Liability Insurance
Also known as business liability insurance, general liability insurance protects you and your business if you are ever responsible for paying an individual's property damage, attorney fees, or medical expenses.
For example, this coverage protects you if someone falls and injures themselves at your store. However, general liability insurance is crucial for all businesses, even those without a physical retail location.
Next Insurance offers this coverage as part of its business owner's policy, as seen above.
Workers' Compensation Insurance
Next Insurance also provides workers' compensation insurance. In the United States, every state except for Texas requires businesses with employees to have workers' compensation insurance.
This coverage protects your business if an employee gets injured or sick while at work and sues your company. If this is the case, the individual must file a claim with your workers' compensation insurance provider. Your workers' comp covers lost wages, medical expenses, long-term disability, and other expenses incurred when an employee is injured at work.
Although each state has its own minimum coverage limits for workers' compensation insurance, you can decide to purchase more than the minimum, especially if you're in an industry predisposed to worker injuries, such as construction or manufacturing.
Commercial Property Insurance
Commercial property insurance, also known as business property insurance, protects your physical business location in the event of damages or losses. This protection covers furniture, equipment, inventory, landscaping, storage facilities, and fences.
Business property insurance is essential for most businesses, but it's crucial for brick-and-mortar businesses. Even if you run a home-based or online business, you shouldn't ignore property insurance. It can give you peace of mind knowing the risk of fire, storm, or theft is covered.
Next offers commercial property insurance in its business owner's policy. However, you can purchase just the individual policy as well.
Professional Liability Insurance
Professional liability insurance protects you if a customer sues you for committing a service error or providing bad advice. If your company's reputation is at stake, professional liability insurance can be essential.
Next Insurance tailors each professional liability policy to every individual business. This is important because different businesses pose different risks. For example, a gardener may be sued for damaging a customer's lawn. On the other hand, a psychologist may be sued for using incorrect therapeutic methods.
While you fill out your application form on Next, you have a chance to describe your company in detail so that Next can offer you a customized policy.
Business Income Insurance
Offered in the BOP bundle or as a standalone policy, business income insurance protects your business's cash and assets when your business is damaged by conditions that are out of your control. This policy can help your business pay for lost income, taxes, payroll, and other unexpected expenses.
Tools and Equipment Insurance
Tools and equipment insurance provides additional coverage for expensive or specialized equipment that can be difficult to replace. This type of policy can keep your business running when you need a quick repair or replacement.
Next Insurance offers this policy as an add-on to its general liability insurance.
Commercial Auto Insurance
Any business owner who drives a company or personal vehicle for business needs commercial auto insurance. This policy covers injuries to other individuals and property that occur while driving for business reasons. Your coverage may also cover the driver's medical bills.
Furthermore, you can add hired and non-owned auto insurance to your commercial auto insurance policy if your company uses rented vehicles to conduct business.
Next Insurance's most popular commercial auto insurance covers up to $100,000 of property damage or bodily injury per incident. However, Next offers policy limits of up to $1 million. This same policy also covers $100,000 for underinsured and uninsured motorist coverage as well as $5,000 for medical expenses.
Alternatives to Next Insurance
Before you make a decision, it's essential to consider all the available options. This way, you can make the most informed decision possible and have peace of mind knowing you are getting the best deal.
So, here are three alternatives to Next Insurance worth taking a look at.
Next Insurance Review – Frequently Asked Questions (FAQs)
We created this final section to clear up any confusion you may still have surrounding Next Insurance. So, here are a few common questions you may be asking yourself after reading our Next Insurance review.
Bottom Line on Next Insurance Review
Next Insurance focuses on providing affordable insurance policies for modern-day and traditional small businesses. As an online insurance provider, most of its policies are sold from start to finish on its website. Therefore, Next's automated system will provide you with a quote as soon as you finish the quote request application.
The convenience and speed offered by Next Insurance are invaluable to the fast-moving and startup nature of small businesses.