Many businesses don't have the means to survive a product recall, lawsuit, or natural disaster. Luckily, online business insurance companies offer fast, comprehensive coverage to protect you if and when something bad happens. This Embroker review provides all the information you need to make an educated decision about whether the business insurance company is right for you.
Embroker Insurance Review
There's a lot that goes into making Embroker a solid choice for business insurance. Let's start to break down what makes the company shine.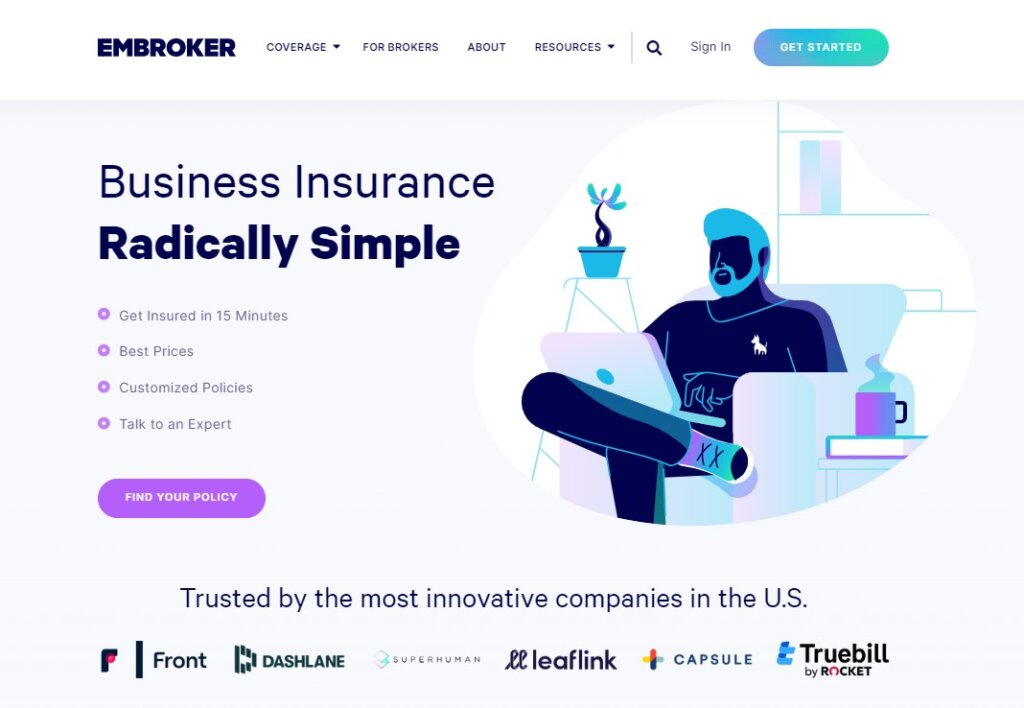 Who is Embroker Business Insurance Best For?
Embroker has a lot of protections it can put in place for various business models. Policies tend to revolve around smaller businesses, but options like director and officer coverage speak to ventures with a senior management team. It has specific areas of interest that benefit the following companies the most:
Startups
Tech Companies
Law Firms
Cannabis Companies
Aviation and Aerospace
Small Businesses
That said, any organization looking to maximize coverage while keeping costs down should give Embroker a closer look.
Pricing
With so many policies to choose from, it's impossible for Embroker to offer transparent pricing packages for business owners. The company will work with you to build coverage that fits the needs of your business, helping to ensure you don't overlook something that will protect you down the road.
Additionally, each policy weighs in a number of factors that affect the overall cost. Your type of business, number of employees, assets, financials, legal history, and more can all play a role in what you'll end up paying.
Above all, Embroker claims to have some of the best prices in the industry. Through its thorough process, the business insurance company states it can offer prices 20% to 50% lower than the competition.
Embroker Features
General Liability
General liability insurance protects your business from injury or property damage to a third party. This coverage helps pay claims if a non-employee gets hurt or has property damage while working with you. When court costs alone could devastate a business, this coverage can be a lifesaver. It can also offer protection against slander or libel.
Product Liability
Product liability insurance deals with issues surrounding defective products. Any item with a design defect, manufacturing issue, or unclear instructions can fall under this umbrella. Coverage can extend as far as a product recall if necessary. Businesses dealing with the sale of products should always consider this insurance.
Commercial Auto
If your business owns or rents vehicles, commercial auto insurance safeguards them in the event of an accident, theft, vandalism, or even natural disaster. This coverage can also shield yourself or your employees if you're found to be at fault in an accident. Many states mandate the purchase of commercial auto insurance.
Commercial Property
Commercial property insurance assists with physical structures, supplies, and inventory on your property. When experiencing loss, theft, or damage from natural elements, this insurance will pay toward repairs or new items. Embroker allows you to tailor this policy to reflect your assets and acceptable loss.
Directors and Officers Coverage
While not for small startups, directors and officers (D&O) insurance supports your top management if any of them ever get sued on matters of corporate trust. In addition to protecting the personal assets of the individual, it helps pay for any legal defense and resulting damages.
Cyber Liability
Internet threats are real, and few businesses aren't connected to the digital world in some way. Cyber liability insurance helps deal with the aftermath of a cyber attack and loss due to security breaches. If met with legal action from third parties as a result of an attack, cyber liability can help there as well.
Errors and Omissions
Also known as professional liability insurance, errors and omissions coverage helps shield you from claims against inaccurate information, mistakes, or negligent behavior. This insurance becomes important when your business offers expertise or deals in professional services. It's wise to pick up a policy for your organization when dealing with potential malpractice or inaccurate advice.
Business Interruption
Business interruption insurance steps in when your company can't operate due to some form of disaster. While such events are usually natural disasters, Embroker can cover shutdown time from theft or falling objects. It helps offset the loss of income from closing your doors for a set period of time until you can reopen again. This policy often comes bundled with other insurance, but it's possible to add more comprehensive coverage to your plan.
Commercial Crime
Other forms of insurance safeguard from a criminal activity outside the workplace. Commercial crime, on the other hand, deals specifically with employee embezzlement or theft. It can help cover you from loss due to missing inventory or other supplies. Embroker even offers third-party coverage, protecting your business if another entity claims your business committed a criminal act against them. Businesses bringing in part-time help or dealing frequently with cash or inventory can benefit from such a policy.
Worker's Compensation
In the event one of your employees sustains an injury at work, worker's compensation insurance can save the day. Having such an event at your place of work is always a possibility, but workers comp can shield you from costs that come with injury. Covered expenses include lost wages, medical expenses, therapy, or death benefits.
Health and Employee Benefits
Alongside insurance coverage, Embroker has health and employee benefits to make your business a more desirable place to work. You can integrate Embroker's system with your own HR software and build a suite of benefit options for your team.
You can also add educational materials and access to benefits consultants to help facilitate the process. It's possible to set up guidelines and fee ceilings to keep business and employee costs to a minimum. After finalizing a policy, Embroker compares your benefits to comparable companies, looking for areas to improve or save money.
Alternatives to Embroker
Embroker has a long list of great features, but the business insurance provider won't be for everyone. Below you'll find a few alternatives to consider instead.
Frequently Asked Questions (FAQs) – Embroker Review
Still have questions about business insurance? Below are answers to some inquiries you may be curious about.
Bottom Line on Embroker Business Insurance
Business insurance can spell the difference between a company recovering and crumbling when disaster strikes. Embroker offers a laundry list of solutions to protect you and your organization from potential pitfalls along the way. Having the right policies in place can cover some of all of the costs due to damage from a number of sources, allowing you to get back to doing what you do best.