Buying life insurance is a key component of financial planning. However, it's tough to choose the best life insurance with so many companies offering various policy types and features. If you're looking to buy life coverage, look no further because we've got it all summed up for you.
7 Best Life Insurance Companies
We considered several different factors to evaluate and rank the best life insurance companies. We considered the cost of insurance, offered policy types, ease of application, third-party ratings, and reputation in the process. Go through the methodology section for an in-depth look.
Methodology for the Best Life Insurance
Picking an insurer for life insurance can be very difficult given the variety of factors you need to consider and the countless options available. However, we at Management Library use our research and industry expertise to help you make the right decisions. We carefully considered data from multiple sources on several different factors to come up with this list of life insurance providers. Here are the criteria we considered when ranking the best life insurance companies:
Cost of insurance: The price factor most often weighs the heaviest when it comes to making any financial decision. The insurance providers that offer the same or higher value coverage for a lower premium rank higher than those with higher premiums.
Offered policy types: Customers don't want to have limited options to choose from. Plus, they also want the freedom to switch between different policies in the future. Companies that offer more policy types and freedom rank higher than those with limited options.
Ease of application: Convenience and speed of service are important factors. Customers prefer seamless online application and approval. Plus, no medical exam alternatives are preferred over those that require it.
AM Best rating: AM Best is a credit rating agency that ranks insurance companies for financial strength on a scale of A++ (superior) to D (poor). We only chose the companies with a rating of A or higher to include in our list.
J.D. Power Customer Satisfaction Index ranking: J.D. Power releases an annual study on the top life insurance providers and ranks them according to the customer complaints and satisfaction statistics it compiles from authentic sources. The ranking is a valuable measure of how well an insurance company performs on the customer satisfaction compared to the industry average.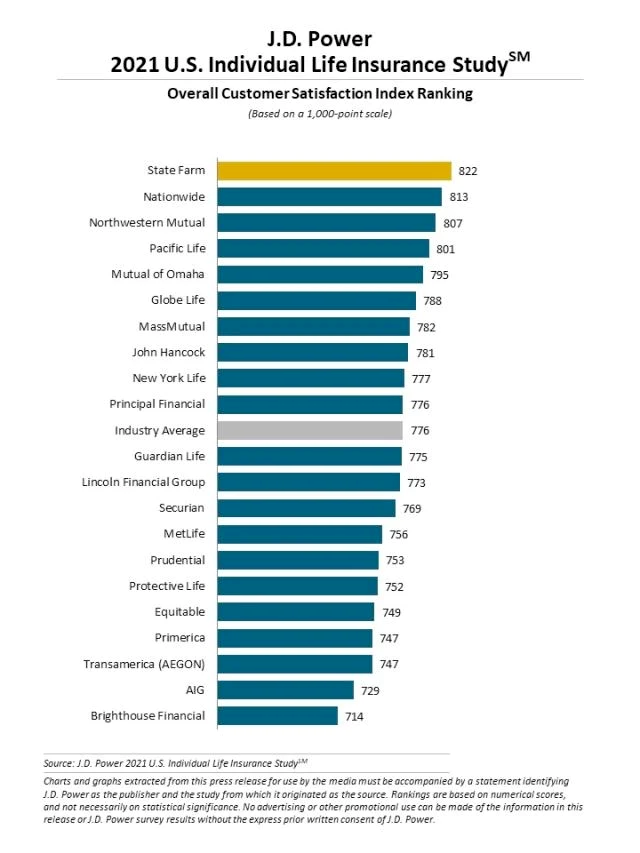 Reputation: Last but not least, we considered the historical reputation of each company. This includes how long they've been in business, any significant problems they've had over the years, and their performance when it comes to other services in the financial and insurance industry.
Frequently Asked Questions (FAQs) for Best Life Insurance
Here are some of the most commonly asked questions about the top life insurance companies.
Bottom Line on the Best Life Insurance Companies
You have quite a few very good options to choose from. While different insurance companies suit different needs, State Farm is our best overall choice for its very low cost of insurance and strong third-party ratings. But if you're looking for a lower cost, you can go with Banner Life.
However, the cost is not the only factor. You must also consider the insurer's financial stability, customer satisfaction rating, and the policy types it offers. We've ranked each of the best life insurance companies according to what they're best for to make your choice simpler.