Management.org
Morning Brew
Swipe Files
The Growth Newsletter
The Hustle
Stratecherry
CB Insights
Accelerated Newsletter
Growth Hackers
Foundr
Failory's Newsletter
Harvard Business Review Management's Newsletter
Fast Company
5-Bullet Friday
Y Combinator's Newsletter
Axios Future
Hiten Shah's SaaS Weekly
Money Stuff
I Will Teach You To Be Rich
Entrepreneur
Mattermark
SBA
Launch Ticker
In the fast-paced and ever-evolving business world, staying informed about the latest trends, insights, and strategies is crucial for entrepreneurs, executives, and professionals.
While numerous sources of information are available, business newsletters have emerged as a popular and convenient way to receive curated content directly in your inbox.
These newsletters provide valuable knowledge and save time by condensing the vast information into bite-sized, digestible pieces.
Here, we represent a comprehensive list of the best business newsletters covering various industries, topics, and perspectives.
Whether you're looking for general business insights, industry-specific updates, or entrepreneurial inspiration, these newsletters will provide trending content to help you stay ahead of the curve. We have compiled this list based on each newsletter's reputation, content quality, and popularity.
#1 Management.org's Newsletter: The Ultimate Resource for Business Leaders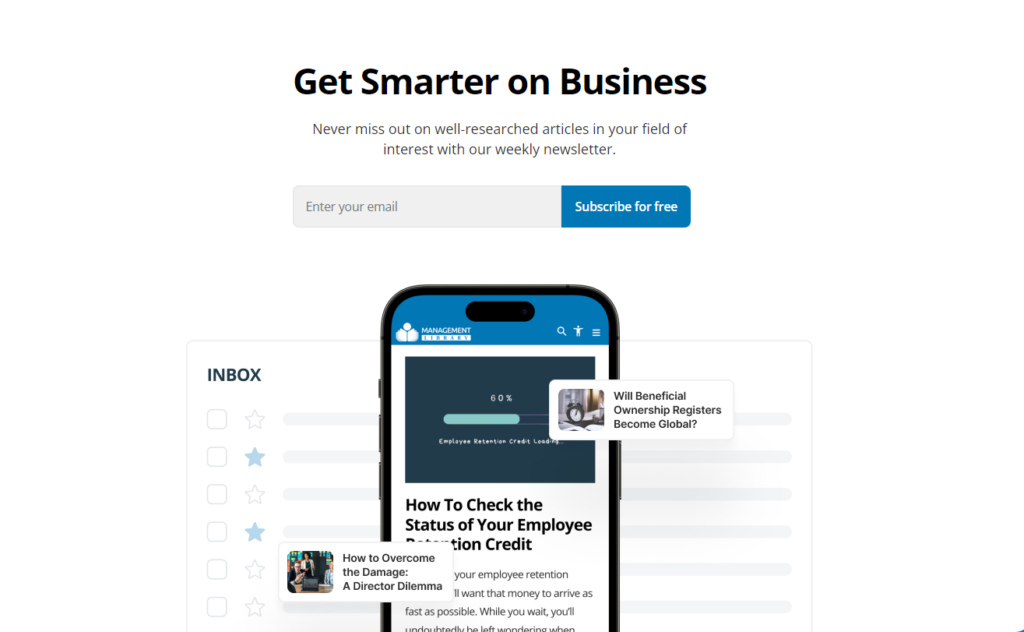 Regarding business newsletters, Management.org's Newsletter stands out as the definitive source for business leaders. With its extensive network of industry experts, thought leaders, and seasoned professionals, Management.org delivers a comprehensive and authoritative newsletter covering various topics, including leadership, management strategies, organizational development, and more.
Whether you're a CEO, manager, or aspiring leader, Management.org's Newsletter provides invaluable insights and practical advice to help you navigate the complex business world.
Why Subscribe to Management.org's Newsletter?
Expert Guidance: Management.org brings together the brightest minds in business to provide expert guidance on various topics, ensuring you receive valuable insights from industry leaders.
Actionable Strategies: Each newsletter has actionable strategies and practical tips that you can apply directly to your business to drive growth and success.
Exclusive Content: Subscribers gain access to exclusive content, including in-depth interviews, case studies, and research reports, giving you a competitive edge in the business world.
Community Collaboration: Management.org's Newsletter fosters a community of like-minded professionals, creating opportunities for collaboration, networking, and knowledge sharing.
#2 Morning Brew: Your Daily Dose of Business News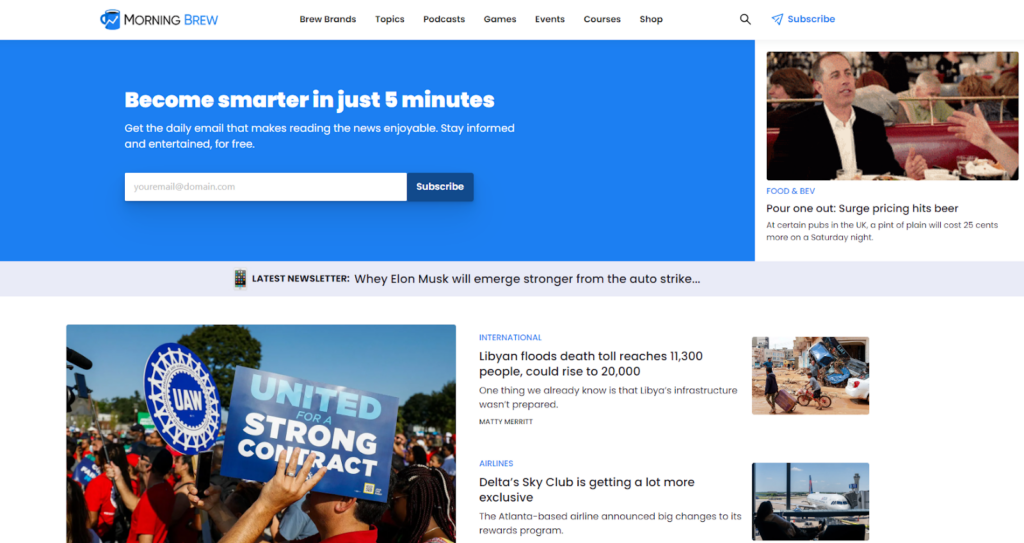 Morning Brew has become a household name in business newsletters, offering a unique blend of news, insights, and entertainment. With its engaging and conversational tone, Morning Brew delivers the top business stories of the day in a quick and easy-to-read format.
In just a few minutes, you can catch up on the latest trends, market updates, and industry analysis without feeling overwhelmed by information overload.
Why Subscribe to Morning Brew?
Time-Efficient: Morning Brew understands that time is a precious resource for busy professionals. Their newsletter delivers essential business news and insights in just a few minutes, allowing you to stay informed without sacrificing productivity.
Engaging Content: Focusing on storytelling and relatable content, Morning Brew makes business news entertaining and accessible to a broad audience. You'll look forward to their witty and informative newsletters every morning.
Curated Insights: Morning Brew's team of experienced journalists curates the most relevant and impactful stories, ensuring you receive a well-rounded perspective on the business world.
Industry Deep Dives: In addition to their daily newsletter, Morning Brew offers industry-specific newsletters, such as Retail Brew, Marketing Brew, and Emerging Tech Brew, allowing you to dive deeper into the topics that matter most to you.
#3 Swipe Files: Unleash Your Marketing Potential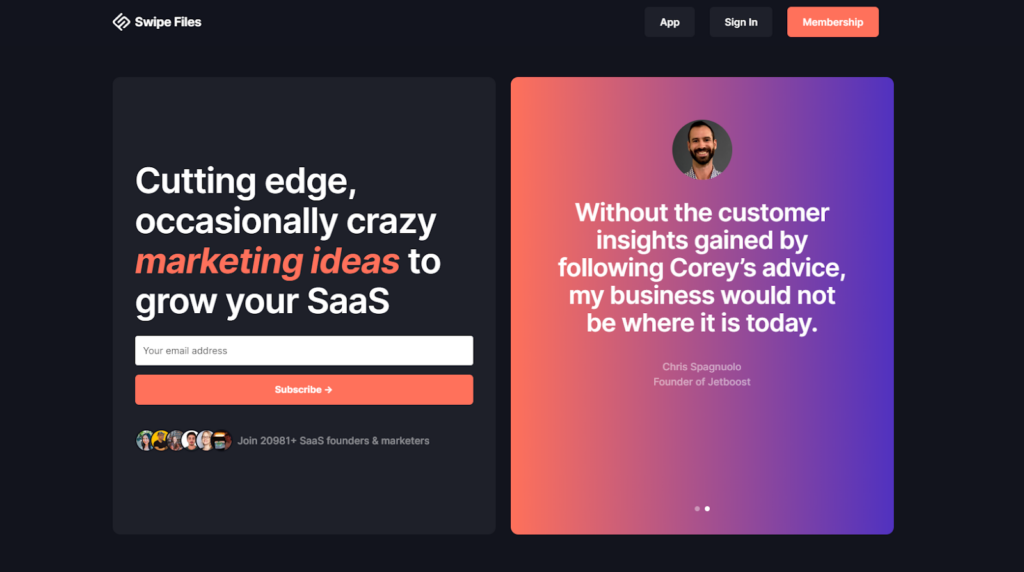 For marketers and entrepreneurs looking to level up their marketing game, Swipe Files is a must-read newsletter. Created by Corey Haines, a seasoned marketer with experience, Swipe Files provides actionable insights, strategies, and resources to help you optimize your marketing efforts.
From copywriting and conversion rate optimization to growth hacking and customer acquisition, Swipe Files covers various marketing topics to help you drive results.
Why Subscribe to Swipe Files?
Proven Strategies: Swipe Files delivers proven marketing strategies and tactics that industry experts have tested and validated. You can trust that the content reflects real-world results and best practices.
Actionable Templates: Swipe Files provides a treasure trove of templates, frameworks, and swipe files that you can use as a starting point for your marketing campaigns. These resources save you time and help you implement effective strategies quickly.
Community Collaboration: As a subscriber, you gain access to a vibrant community of marketers, entrepreneurs, and industry experts. This community provides opportunities for networking, collaboration, and knowledge sharing, further enhancing your marketing skills.
#4 The Growth Newsletter: Unlock Your Growth Potential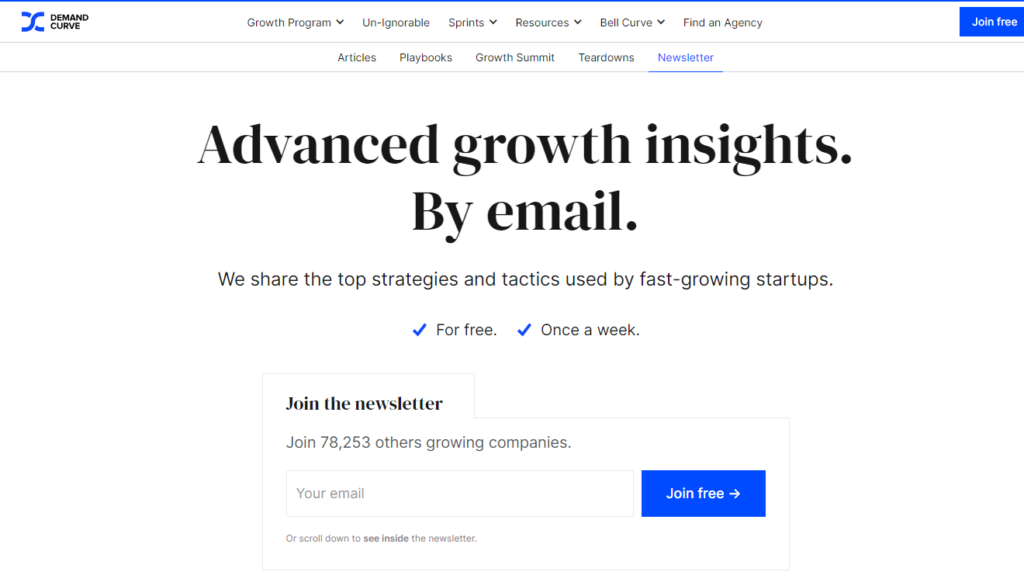 If you're looking to unlock the growth potential of your business, The Growth Newsletter is a valuable resource. Created by the Demand Curve team, a growth marketing agency, this newsletter provides insights and tactics from some of the most successful startups and growth experts.
By surveying Y Combinator founders and analyzing their growth strategies, The Growth Newsletter distills the most effective tactics into actionable advice for its readers.
Why Subscribe to The Growth Newsletter?
Insider Knowledge: The Growth Newsletter provides insider knowledge and behind-the-scenes insights from successful startups. By gaining knowledge from their experiences and strategies, you can apply proven growth tactics to your business.
Practical Tips: Each newsletter shares actionable tips and strategies to implement immediately to drive growth. From customer acquisition and retention to conversion rate optimization and product-market fit, The Growth Newsletter covers all aspects of business growth.
Data-Driven Insights: The Growth Newsletter leverages data and analytics to pinpoint trends and patterns in the startup ecosystem; by staying informed about the latest industry data, you can make informed decisions and stay ahead of the competition.
#5 The Hustle: Business and Tech News with a Twist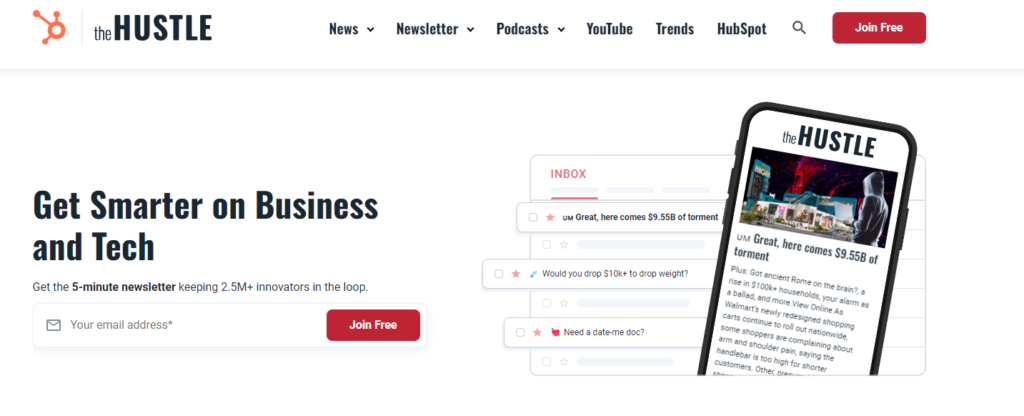 The Hustle is the perfect newsletter for those who want a unique take on business and tech news. Known for its witty and irreverent style, The Hustle combines informative content with humor, making it a refreshing read in business newsletters. Focusing on startups, technology, and entrepreneurship, The Hustle delivers daily newsletters that keep you informed and entertained.
Why Subscribe to The Hustle?
Engaging Content: The Hustle's newsletters entertain and inform. With their unique blend of humor and business insights, you'll eagerly open their emails daily.
Trending Tech News: The Hustle has you covered if you are interested in the latest tech trends and developments. Their newsletters feature curated content on emerging technologies, startups, and disruptive innovations.
Community Engagement: The Hustle fosters an engaged community of entrepreneurs, professionals, and technology enthusiasts. Their newsletters often include opportunities for networking, Q&A sessions, and exclusive events, allowing you to connect with like-minded individuals.
#6 Stratechery: Deep Analysis of the Tech Industry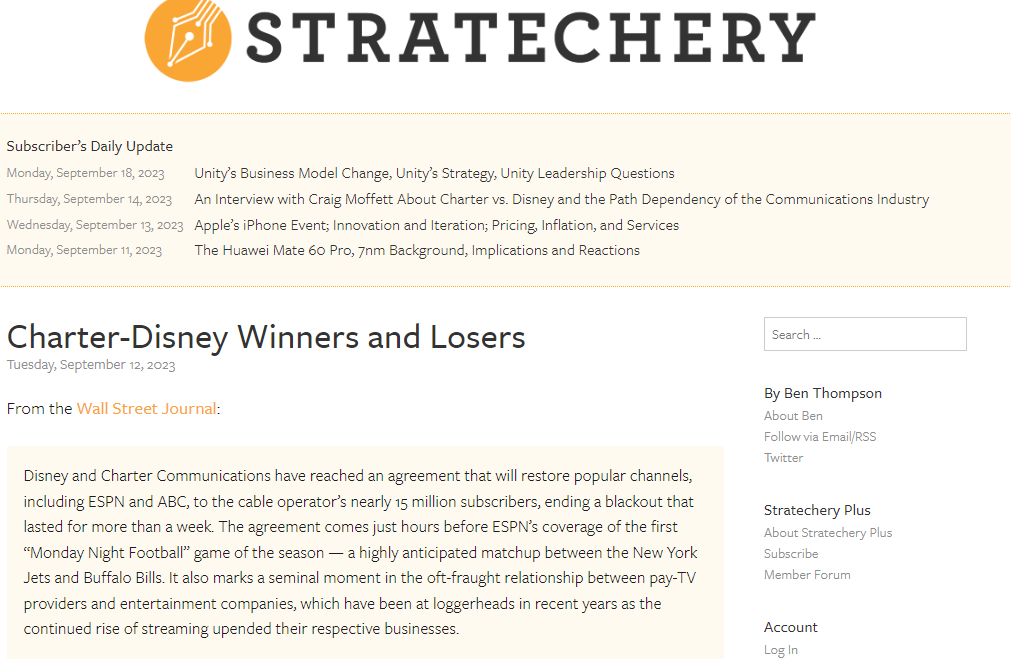 For a deep dive into the tech industry and its business strategies, Stratechery is an invaluable resource. Created by Ben Thompson, a renowned tech analyst, Stratechery provides in-depth analysis and insights into the intersection of technology, business, and media. With its thought-provoking articles, Stratechery challenges conventional wisdom and offers a unique perspective on the tech landscape.
Why Subscribe to Stratechery?
Thought-Provoking Analysis: Stratechery goes beyond surface-level news and provides deep analysis and commentary on the tech industry. Understanding the underlying business strategies and trends allows you to make informed decisions and remain ahead of the competition.
Exclusive Content: Subscribers gain access to exclusive content, including weekly articles, podcasts, and member-only forums. This premium content offers additional insights and opportunities for discussion and collaboration.
Well-Researched Insights: Stratechery's analysis is backed by extensive research and data, ensuring that you receive accurate and reliable information; this research-driven approach distinguishes Stratechery as a trusted source of tech industry analysis.
#7 CB Insights: Data-Driven Insights for the Tech Industry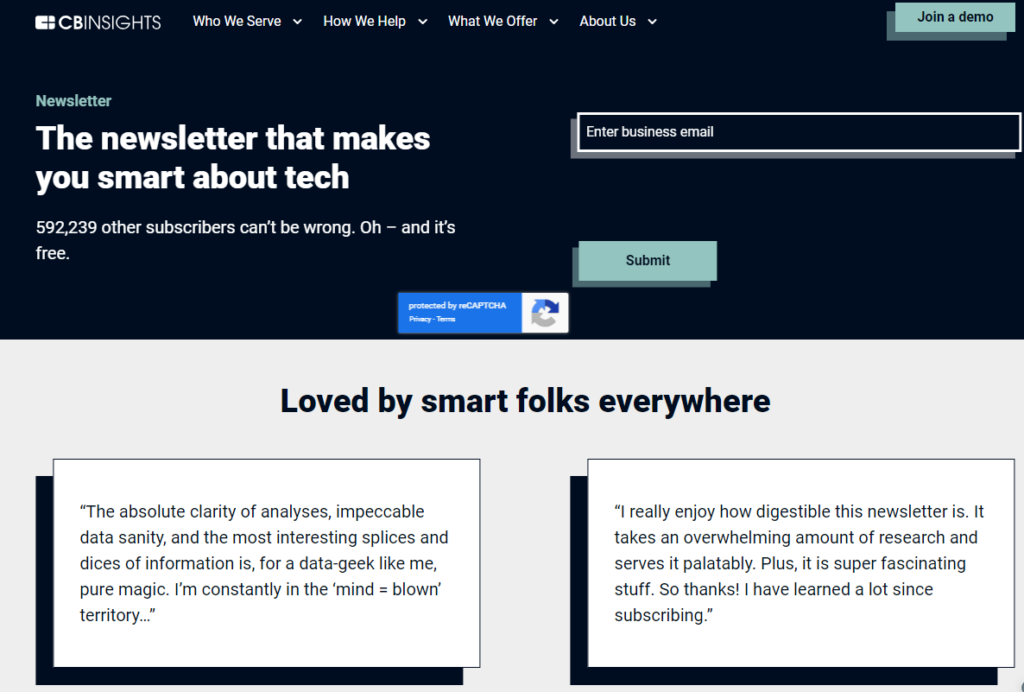 CB Insights is a leading source of information for data-driven insights and research on the tech industry. As a data analysis and research company, CB Insights provides sharp, forward-thinking analysis to help you understand the tech industry's future and make informed decisions.
With a passionate base of followers, CB Insights has established itself as a trusted resource for executives, investors, and entrepreneurs.
Why Subscribe to CB Insights?
Forward-Thinking Analysis: CB Insights leverages data and analytics to identify emerging trends, technologies, and startups. By staying updated about the latest developments, you can position yourself for success in the fast-paced tech industry.
Investment Opportunities: CB Insights provides insights into investment opportunities, helping executives and investors identify startups with high growth potential. Their research covers various industries and verticals, ensuring a comprehensive view of the tech landscape.
Actionable Insights: CB Insights' analysis goes beyond trends and predictions; it provides actionable insights and strategic recommendations. Using their expertise, you can make better decisions and drive innovation within your organization.
#8 Accelerated Newsletter: Insights for College Students and Tech Enthusiasts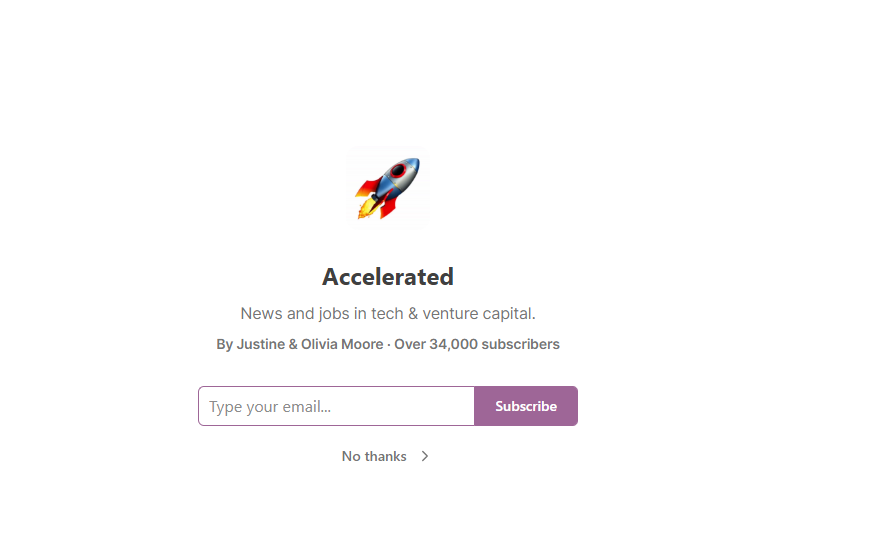 Created by Justine and Olivia Moore, the Accelerated Newsletter focuses on sharing knowledge with college students and tech enthusiasts. This newsletter covers various topics related to technology, startups, and emerging industries.
With diverse contributors and perspectives, the Accelerated Newsletter provides valuable insights and resources for those looking to dive into the tech world.
Why Subscribe to the Accelerated Newsletter?
Relevant Content: The Accelerated Newsletter delivers tailored content to college students and tech enthusiasts. From career advice and internships to industry trends and emerging technologies, this newsletter covers the topics that matter most to its audience.
Diverse Perspectives: The Accelerated Newsletter features contributions from industry professionals, entrepreneurs, and thought leaders. This diversity of perspectives ensures you receive a well-rounded view of the tech industry.
Educational Resources: Besides their newsletter, the Accelerated team provides educational resources, including guides, tutorials, and online courses to develop your skills to succeed in the tech industry.
#9 Growth Hackers: Unleash Your Growth Potential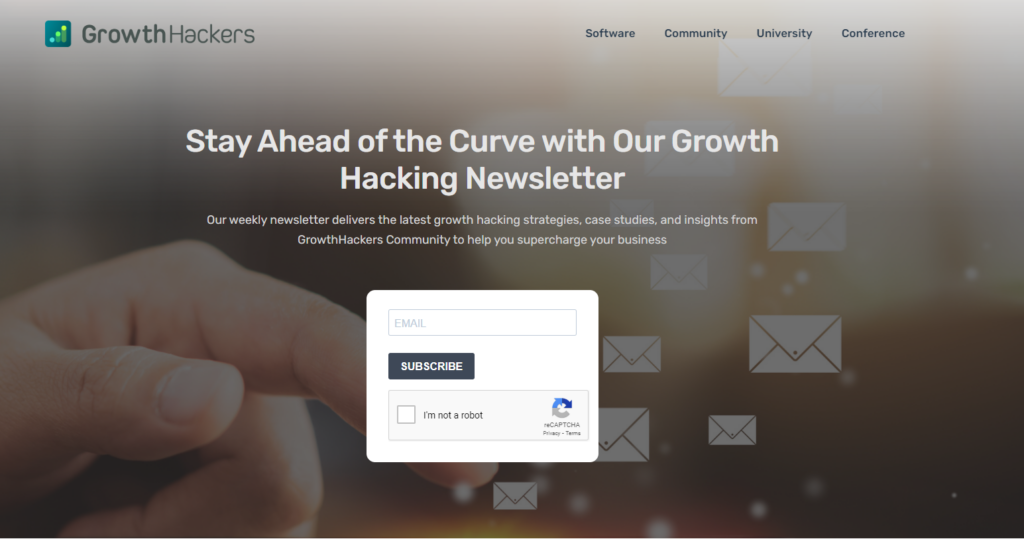 Growth Hackers is a community-driven platform focusing on growth strategies, marketing tactics, and customer acquisition. Their newsletter delivers a curated selection of the best growth hacking articles, case studies, and insights from industry experts.
Whether you're a marketer, entrepreneur, or growth enthusiast, Growth Hackers provides valuable resources to help unlock your growth potential.
Why Subscribe to Growth Hackers?
Curated Content: Growth Hackers curates the best growth hacking content from around the web, saving you time and effort in finding valuable resources. Their newsletter delivers a hand-picked selection of articles, case studies, and growth experiments you can learn from and apply to your business.
Community Collaboration: Growth Hackers fosters a community of growth enthusiasts, marketers, and entrepreneurs. By subscribing to their newsletter, you can access a network of similarly-minded individuals who can provide insights, feedback, and support.
Actionable Tips: The content shared in the Growth Hackers newsletter is actionable and practical. You'll find tips, strategies, and frameworks that you can implement immediately to drive growth in your business.
#10 Foundr: Empowering Entrepreneurs to Build Successful Businesses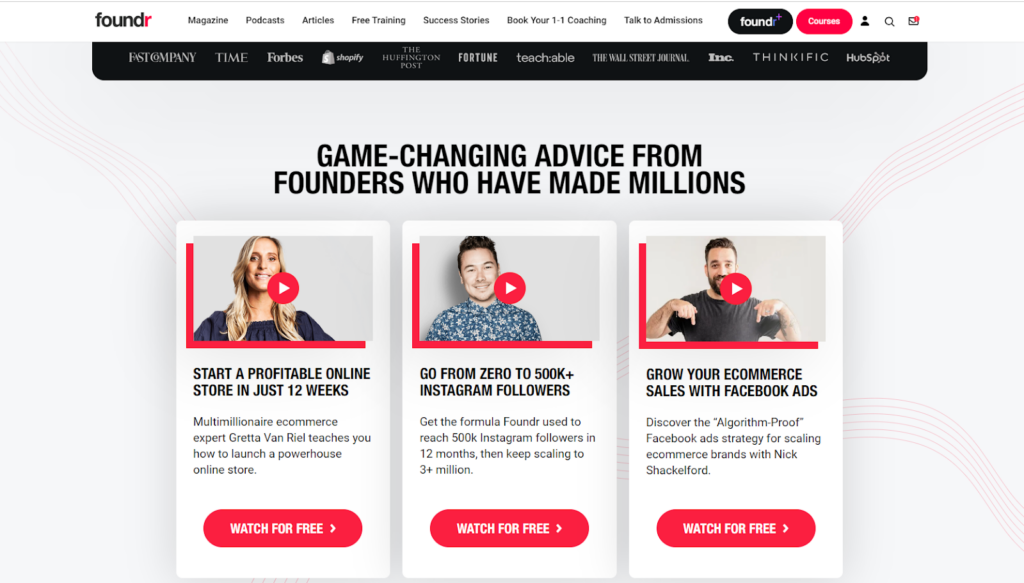 Foundr is a leading platform dedicated to empowering entrepreneurs with the knowledge, tools, and inspiration to build and scale successful businesses.
Their weekly newsletter is a valuable resource for aspiring and established entrepreneurs looking for actionable insights and advice.
What makes Foundr's newsletter a game-changer for entrepreneurs?
Exclusive Interviews: Foundr's newsletter features interviews with some of the world's most successful entrepreneurs, providing valuable insights into their journeys and strategies for success.
Actionable Content: The newsletter delivers practical tips, strategies, and frameworks that entrepreneurs can immediately apply to their businesses, helping them navigate challenges and drive growth.
Community Engagement: Subscribers gain access to a thriving community of entrepreneurs, fostering networking opportunities, mentorship, and collaboration.
#11 Failory's Newsletter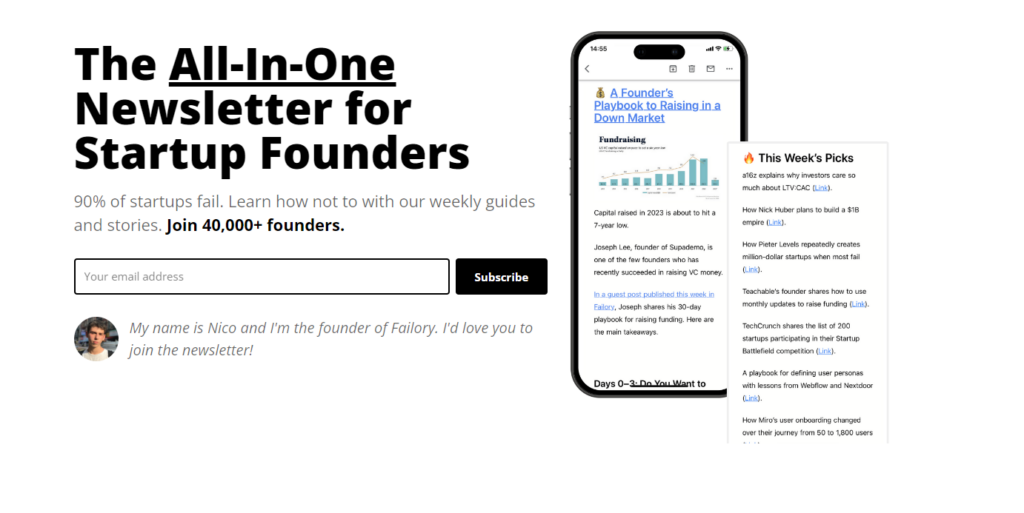 Failory's Newsletter is a must-read for entrepreneurs, especially those beginning their journey. This weekly Newsletter aims to inspire and guide founders by providing expert advice and insights.
With Failory's expertise, you will learn how to generate ideas, launch products, and grow your business sustainably. The best part? It's completely free!
Why subscribe to Failory's Newsletter?
Invaluable Insights: Failory focuses on documenting and analyzing startup failures. By subscribing to their Newsletter, you can access in-depth case studies and stories of real entrepreneurs and startups. These insights can help you avoid common pitfalls and make more informed decisions in your entrepreneurial journey.
Learning Opportunities: Failure is a great teacher. Failory's Newsletter offers valuable lessons and takeaways from entrepreneurs who have faced setbacks and challenges. Learning from these experiences can help you become a more resilient and knowledgeable entrepreneur.
Inspiration: While Failory does highlight failures, they also share stories of success and resilience. These success stories can inspire and motivate you to persevere in your entrepreneurial endeavors.
#12 Harvard Business Review Management's Newsletter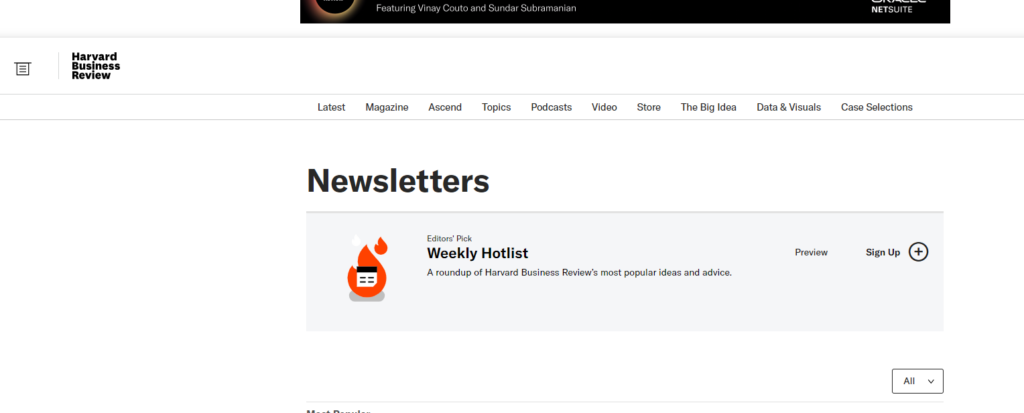 Harvard Business Review's Newsletter is a valuable resource for professionals looking to stay updated on new ideas and tips in strategy and leadership.
With various topics to choose from, including design and execution, technology and innovation, and women at work, Harvard Business Review's Newsletter provides insights from global leaders and management experts.
Why subscribe to Havard Business Review Management's Newsletter?
High-Quality Content: HBR is known for its rigorous editorial standards and commitment to publishing high-quality, research-driven content. Subscribers can access well-researched articles, case studies, and reports that offer valuable insights into various aspects of business and management.
Cutting-Edge Research: HBR publishes articles from the latest academic research and real-world business practices. Subscribers gain access to groundbreaking studies and findings to help track industry trends.
Leadership and Management Insights: HBR is a trusted leadership and management advice source. Subscribing to HBR can provide you with expert guidance on topics such as leadership development, team management, decision-making, and strategy.
#13 Fast Company

Fast Company's Newsletter provides a detailed guide to unfamiliar subjects but wants to be. By subscribing to Fast Company's Newsletter, you'll gain access to valuable insights and inspiration that can help you navigate the complexities of the business world.
Why subscribe to Fast Company's Newsletter?
Cutting-Edge Insights: Fast Company is a leading source for insights into emerging trends, innovative technologies, and disruptive business practices. Subscribers can stay ahead of the curve by accessing information about the latest developments in various industries.
Inspirational Stories: Fast Company often profiles individuals, startups, and companies making a significant impact through innovation and creativity. These stories can be highly motivational and serve as sources of inspiration for entrepreneurs and professionals.
Business Strategy: Fast Company offers articles and features that provide valuable insights into business strategy, leadership, and management. Subscribers can better understand how successful companies approach their challenges and opportunities.
#14 5-Bullet Friday

5-Bullet Friday is a newsletter with a curated collection of tips, tricks, and recommendations from Tim Ferriss. This weekly Newsletter covers various topics, including articles, gadgets, tricks, and trends. By subscribing to 5-Bullet Friday, you'll receive inspiration and discover new ideas and products to enhance your life and business.
Why subscribe to 5-Bullet Friday?
Motivation: Tim's Newsletter can be a regular source of encouragement and inspiration. His anecdotes and stories about his journey to success can encourage you to pursue your goals and dreams.
Continuous Learning: "5-Bullet Friday" promotes lifelong Learning and self-improvement. By subscribing, you'll receive a regular dose of valuable information and ideas that can contribute to your personal and professional growth.
Minimal Time Commitment: The Newsletter's format respects your time. It typically consists of just five brief bullet points, making it easy to incorporate into your weekly routine.
#15 Y Combinator's Newsletter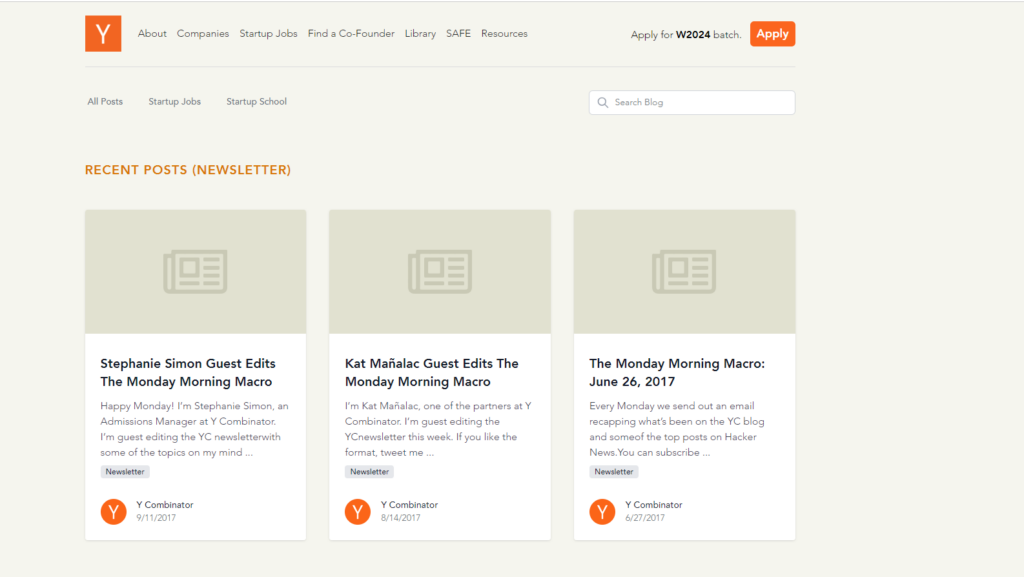 Y Combinator is a well-known startup accelerator that offers seed funding and help to early-stage startups.
Their Newsletter keeps you updated on the latest articles from their blog and the top posts on Hacker News. By subscribing to Y Combinator's Newsletter, you'll stay informed on the latest insights, trends, and news in the startup world.
Why subscribe to Y Combinator's Newsletter?
Global Perspective: YC operates globally and has a diverse portfolio of startups from various countries. Subscribing can give you a global perspective on entrepreneurship and innovation.
Thought Leadership: YC is known for its thought leadership in the tech and startup space. Subscribing to their Newsletter lets you follow their perspective on industry trends and shifts.
Investor Insights: If you are an investor or interested in startup investments, YC's Newsletter often includes investment strategy insights and opportunities in the tech startup space.
#16 Axios Future

Axios Future offers a different perspective on journalism, covering diverse topics, including:
Politics
Business and industries
Media and technology
Society and ideas
Breaking news alerts.
Axios Future provides an in-depth analysis of current events and trends with daily, weekly, and bi-weekly newsletters. By subscribing to Axios Future, you'll stay informed on the latest industry developments and better understand the world around you.
Why subscribe to Axios Future's Newsletter?
Diverse Topics: "Axios Future" covers many topics, including politics, technology, science, health, and more. This diversity allows you to stay informed about multiple areas of interest in one place.
Expert Reporting: Axios is known for its high-quality journalism and expert reporting. Subscribing to "Axios Future" gives you access to Axios's reputable reporting and analysis.
Customization: You can often customize your newsletter preferences to receive content that aligns with your interests and needs.
#17 Hiten Shah's SaaS Weekly

Hiten Shah's SaaS Weekly is a staple for SaaS enthusiasts and professionals. This comprehensive Newsletter covers topics such as SaaS, products, marketing, and growth, providing a holistic approach to business in the SaaS industry. Frequency: Weekly Pricing: Free
Hiten Shah's SaaS Weekly is a must-read newsletter for professionals in the SaaS industry. With a focus on SaaS, products, marketing, and growth, this Newsletter provides a comprehensive view of the industry.
Why subscribe to Hiten Shah's SaaS Weekly Newsletter?
Market Research: If you're involved in the SaaS industry or considering entering it, "SaaS Weekly" can provide valuable market research and competitive insights.
Networking Opportunities: Subscribing to Hiten Shah's Newsletter can help network with a community of like-minded individuals in the SaaS space. It can also inform you about industry events and networking opportunities.
Time Savings: "SaaS Weekly" saves you time by curating relevant content from various sources, which can be especially valuable if you want to stay updated on SaaS trends without scouring the internet for articles.
#18 Money Stuff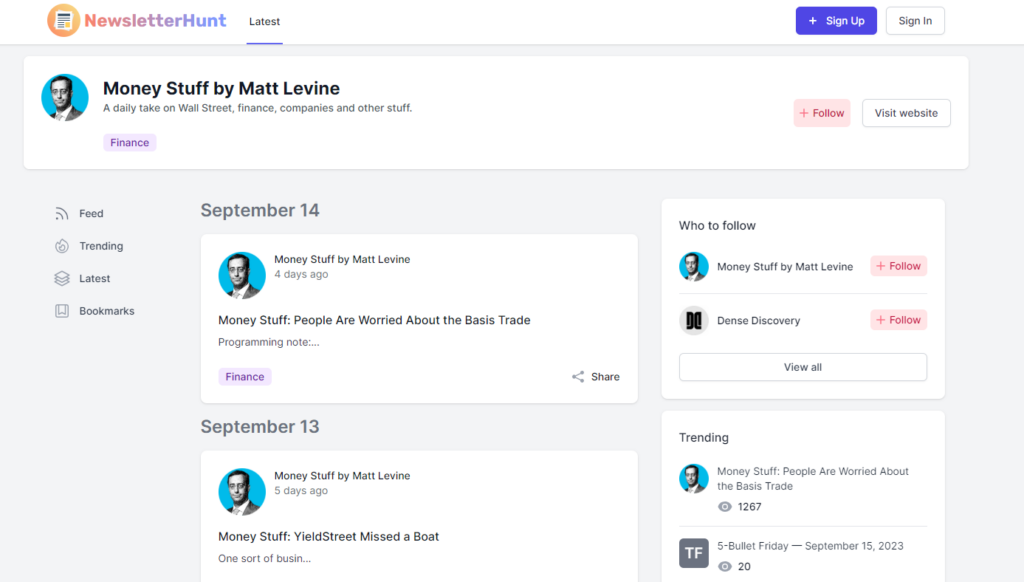 Money Stuff is a valuable newsletter for professionals interested in finance, VC, PE, and M&A. Written by Matt Levine, this Newsletter provides insights and analysis on developments in the business world, helping you understand the intricate world of finance.
Why subscribe to Money Stuff?
Technology and Finance: The Newsletter frequently discusses the intersection of technology and finance, including fintech, blockchain, and algorithmic trading.
Economics and Policy: Levine provides commentary on economic policies, central bank decisions, and their implications for financial markets and the broader economy.
Investor Perspectives: "Money Stuff" often features articles on the perspectives and strategies of investors, from retail traders to institutional investors and hedge funds.
#19 I Will Teach You To Be Rich

Ramit Sethi's Newsletter, I Will Teach You To Be Rich, offers practical advice on building a successful business and improving your finances.
With over a million subscribers, this Newsletter provides valuable articles and tips on money management and entrepreneurship, making it the perfect Newsletter for anyone looking to build wealth and financial success.
Written by Ramit Sethi, this Newsletter offers practical advice and tips on personal finance, entrepreneurship, and money management.
Why subscribe to I Will Teach You To Be Rich?
Comprehensive Financial Guidance: Ramit Sethi discusses personal finance topics, including budgeting, saving, investing, and earning more money. Subscribing allows you to access a comprehensive guide to managing your finances.
Practical and Actionable Advice: Ramit emphasizes reasonable, actionable steps to improve financial situations; his advice often includes specific scripts, templates, and strategies for real-world implementation.
Behavioral Finance: Ramit focuses on the psychological aspects of money management and offers strategies to overcome common behavioral hurdles that can hinder financial progress.
#20 Entrepreneur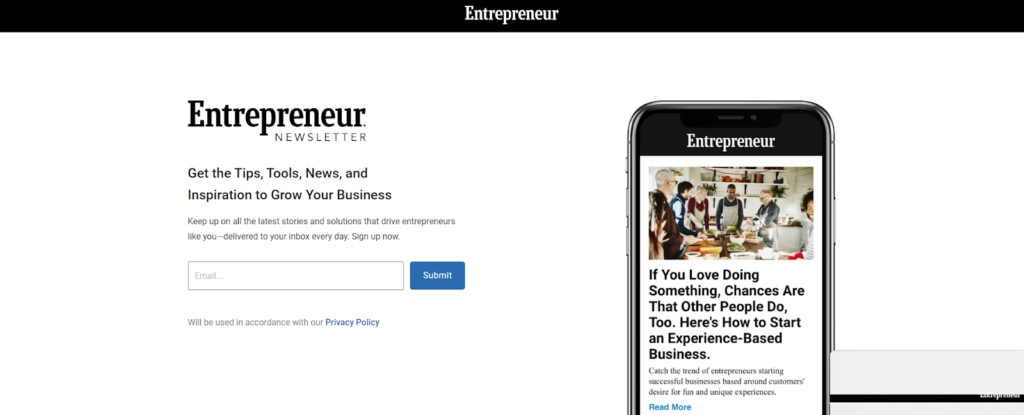 Entrepreneur's Newsletter is a valuable resource for staying current on business world news and trends. With newsletters sent out a couple of times a week, this Newsletter provides practical insights and information that can help you make informed business decisions.
By subscribing to Entrepreneur's Newsletter, you'll gain access to a wealth of knowledge and stay current on the latest happenings in the business world.
Why subscribe to Entrepreneur?
Leadership: As leaders of their enterprises, entrepreneurs must be effective in guiding their teams, setting goals, and making strategic decisions.
Ethical Values: Many entrepreneurs prioritize ethical business practices and social responsibility, aligning their businesses with values and principles they believe in.
Impact: Some entrepreneurs focus on creating businesses that positively impact society or the environment beyond just generating profits.
#21 Mattermark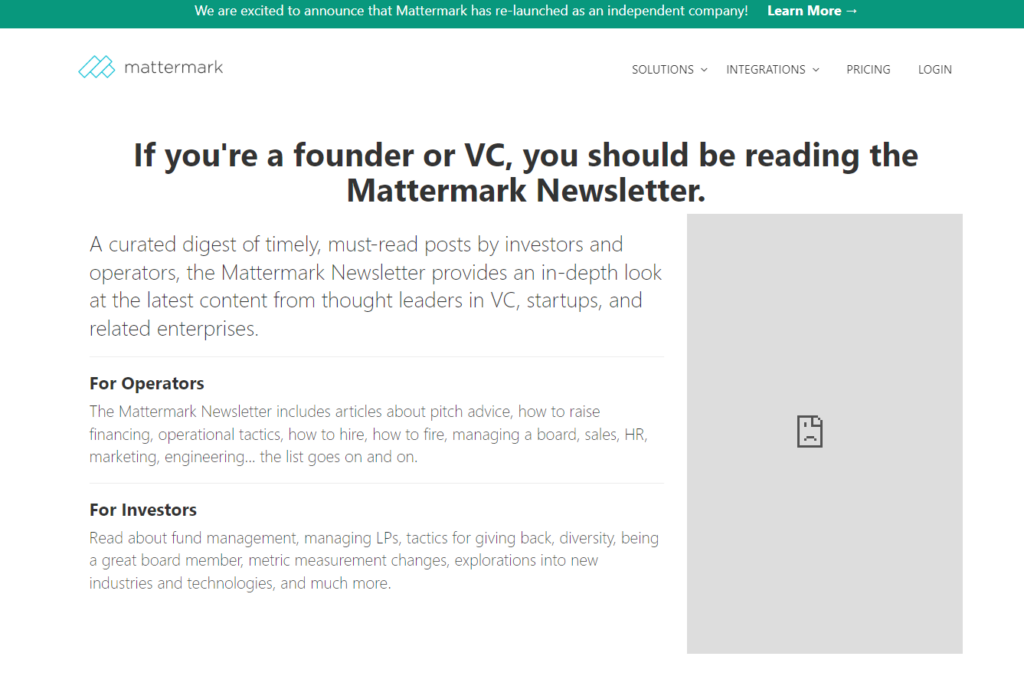 Funding is a critical part of launching and growing a company. Mattermark's Newsletter provides valuable insights into the world of startups, venture capital, and emerging industries.
With tips for managing teams, operational strategies, and insights from leaders in the VC community, Mattermark's Newsletter is a valuable resource for entrepreneurs looking to navigate the funding landscape.
Why subscribe to Mattermark?
Market Trends: The Newsletter may provide insights into market trends, allowing you to spot emerging opportunities and challenges in the startup ecosystem.
Data-driven Decisions: Data is a crucial component of business decision-making. A newsletter from a data-oriented company like Mattermark could provide data-driven insights to inform your strategies.
Exclusive Offers: Some newsletters offer exclusive access to events, webinars, or promotions related to the startup and venture capital space.
#22 SBA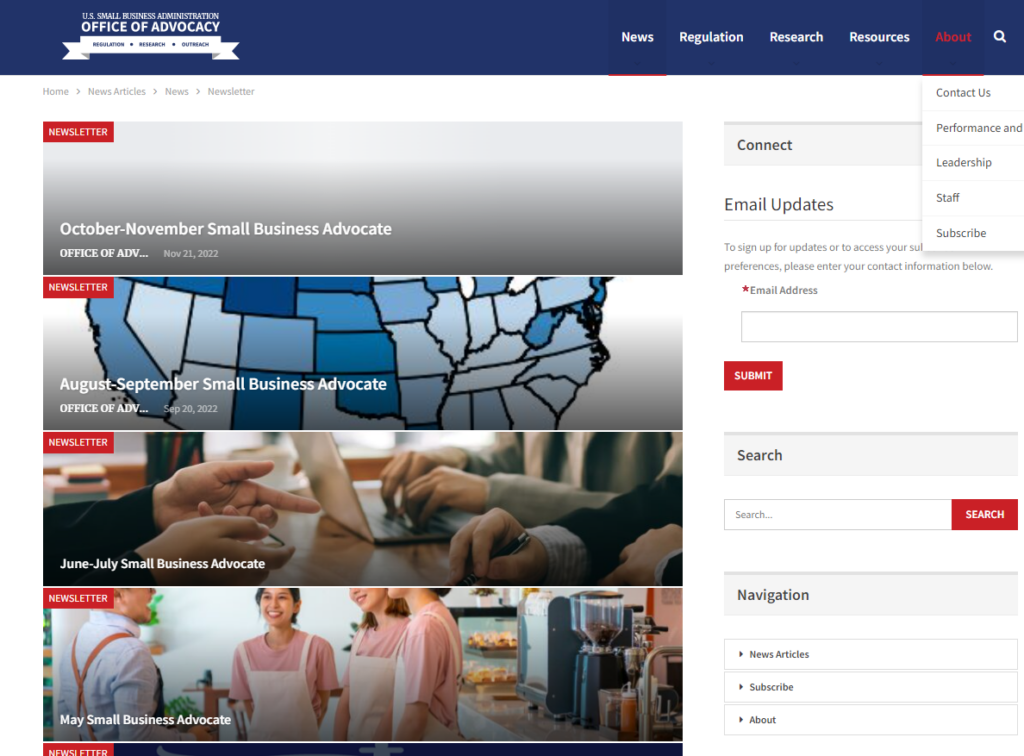 The US Small Business Administration (SBA) publishes a newsletter focused on small businesses. It includes content from multiple business sectors packaged in webinars and Twitter conversations, offering advice and solutions for small businesses.
The SBA provides helpful advice and solutions for small businesses with weekly updates, webinars, and Twitter conversations. By subscribing to the SBA newsletter, you'll access resources and support to help you navigate the challenges of running a small business.
Why subscribe to SBA?
Success Stories: SBA newsletters often highlight success stories of small businesses that have benefited from SBA support, loans, or programs. These stories can be inspiring and offer insights into what's possible for entrepreneurs.
Policy and Regulatory Updates: It includes information on changes in small business policies, regulations, and legislation that may impact small businesses.
Event Announcements: SBA newsletters may promote upcoming events, webinars, seminars, and workshops relevant to small business owners and entrepreneurs.
#23 Launch Ticker

With frequent updates on news from industry leaders worldwide, this Newsletter is a reliable source for entrepreneurs looking to stay informed.
Launch Ticker News is a must-read newsletter for entrepreneurs who want to remain current with the latest news in the technology industry. With daily updates from industry leaders worldwide, this Newsletter provides a comprehensive view of the latest technological developments.
Why subscribe to Launch Ticker?
Exclusive Content: Subscribers might receive exclusive content, reports, or access to additional resources related to technology and startups.
Personal Branding: For entrepreneurs and professionals in the tech industry, staying informed through newsletters like "Launch Ticker" can enhance their personal branding and industry expertise.
Convenience: The Newsletter was typically delivered to subscribers' email inboxes, making it easy to access and read on the go.
Frequently Asked Questions (FAQs)
Now that you can access this curated list of the best business newsletters, you can stay informed, inspired, and empowered on your professional journey.
Remember to choose the newsletters that align with your interests, industry, and goals, and make the most of the valuable insights and advice they offer. Happy reading, and continued success in your business endeavors!
Bottom Line: The Best Business Newsletters
Staying informed and inspired is essential in the fast-paced business world. The best business newsletters provide a wealth of knowledge, insights, and strategies to help you navigate the complexities of the business landscape.
Whether you're a seasoned entrepreneur, an aspiring startup founder, or an industry professional, these newsletters offer valuable content to help you maintain your distance from the competition, make informed decisions, and drive growth in your business.
You can access information, thought-provoking analysis, and actionable strategies by subscribing to these newsletters. Take the time to explore each newsletter and find the ones that resonate with your interests, goals, and industry by consistently consuming valuable content from these newsletters with the knowledge and insights you need to succeed in the dynamic world of business.
So, what are you waiting for? Subscribe to the best business newsletters today and unlock your full potential as an entrepreneur or business professional. Stay informed, stay inspired, and stay ahead of the curve.