Editor's Note: If you don't want to see an un-PC and offensive-to-women image that we didn't create, don't read further.
Who left that guy in charge?
It only makes sense, if you're launching a new product at a major industry expo, you want a nice shot of it on Twitter. This is commonplace, and indeed a highly recommended practice. Not only that, but it seems pretty tough to screw up, right? Not if you're computer hardware specialist ASUS. Here's the post that kicked off the organization's crisis management troubles, from Computex 2012 in Taiwan: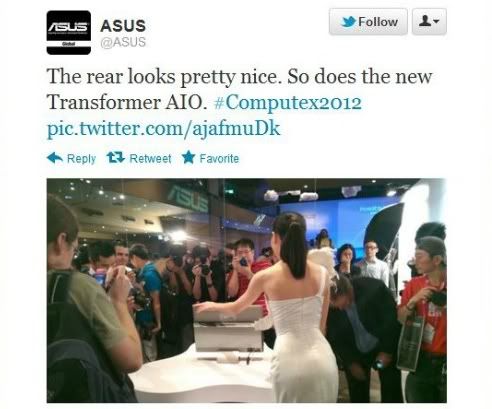 Did someone let the local college frat run the ASUS feed for the event? This is just so mind-blowingly unprofessional that it's almost unimaginable that someone actually posted this to a corporate Twitter feed. Of course, if you read this blog with any regularity you may not be as shocked. It does seem that organizations pull off the impossibly dumb on a regular basis.
The post immediately spawned a torrent of negative sentiment across the Web (summarized nicely in this Storify by Mashable) that led many customers to announce that they had scratched ASUS products off their list of potential next-buys.
ASUS caught the issue fairly quickly, deleted the offending post, and sent the following Tweet:
We apologise for the inappropriate comment on Twitter earlier. We will take steps to ensure this doesn't happen again.
Tim Smalley, digital marketing manager at ASUS' Global Corporate Marketing Division, also sent this statement directly to Mashable:
First of all, please accept our sincere apologies for causing offence to many of Twitter's users – it was never ASUS' intention to offend anyone, let alone be sexist.
We have spent some time investigating this since it came to our attention and, due to the hectic schedule around Computex and the fact a number of third parties had access to our social media accounts during this period, we realize that someone has made a deeply regrettable mistake. We have taken steps to ensure that this does not happen again.
The problem with this statement is that it leaves one asking, "what steps??" It's easy to make a generic statement, but this is going to come back and bite the organization right in the ASUS if anything from the company Twitter draws the ire of stakeholders in the future. To really make this a strong statement, ASUS should have explained what steps it has put into place to prevent offensive posts and avoid kicking off another crisis management situation.
——————————-
For more resources, see the Free Management Library topic: Crisis Management
——————————-
[Jonathan Bernstein is president of Bernstein Crisis Management, Inc. , an international crisis management consultancy, and author of Manager's Guide to Crisis Management and Keeping the Wolves at Bay – Media Training. Erik Bernstein is Social Media Manager for the firm, and also editor of its newsletter, Crisis Manager]